The Monday Dump 16/Sep/02
This Monday dump with Dave Grohl and Alisa Camplin.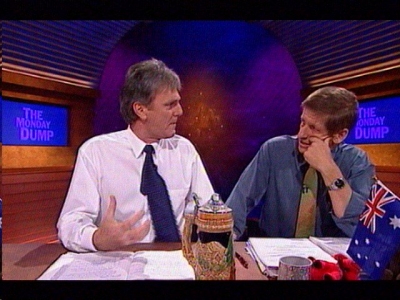 Talk about Thorpie and how he dumped his coach. Shots of Thorpie breaking the world record show him only mildly excited (hands raised slightly in slight recognition of his achievement). Hope that the new coach will release the mongrel in him and make him more ruthless.
Toilet Police
Dave Grohl
Dave Grohl and one of his band members is on. Talked about surfing, there opinion of invading Iraq (Dave didn't have an opinion but other guy said Bush hasn't made case yet), their favourite song (Daves favourite was Xanadu). Talked about Daves method of writing songs. Dave writes the song first then the lyrics. Elton John on the other hand writes the lyrics first then the song. Dave says thats because Elton is gay.
Reserve
Roy and HG talk about the low attendance at AFL finals. Roy suggests that if two interstate clubs are playing then one half of the game should be played in the first state then the second half in the other.
Alisa Camplin
Australian Winter Olympic Gold medal winner Alisa is on. Talk about Alisa dumping her coach 14 months ago and how hard it was. Knows how hard it must have been for Thorpie. Alisa has recently done an Extra chewing gum advertisement but couldn't do the Liz Smiley lisp.
The Killer and the Cop
Band Butterfly Night