The Carnival 6/Nov/02

The Carnival with Darren Beadman and Steve Vizard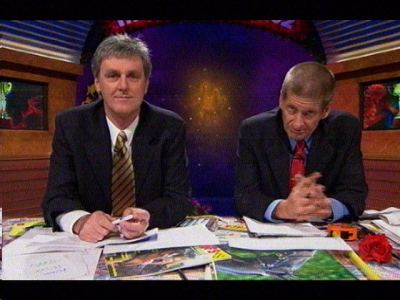 Each week Roy shows a different potted plant and explains to viewers how to grow the plant. HG wants to know if Roy has any potted green that he could have. Shots of famous people at the Melbourne Cup.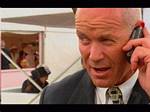 Darren Beadman

Famous Australian jockey who has won many races. HG asks whether Darren decides only to ride good horses so that it makes him look like a much better jockey. Darren says its true and doesn't ride mediocre horses that might make it look like he's lost it. HG asks what sort of horse Darren likes to ride and Darren says he likes riding the horse Beaver and HG isn't sure how to reply. Roy asks if Darren ever pulled up a horse. Darren says no but does say that sometimes horses are ahead one minute then are suddenly back at the field which leaves Darren wondering if some jockeys are pulling them up. Roy asks him if theres a lot of talk on the track between jockeys and Roy pretends to talk like a jockey in a high pitched voice. Darren reckons women jockeys are the worst and swear at eachother all the time.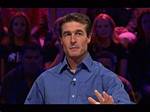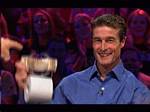 Shots of a serving farm where mares go to get impregnated by stallions. Mares need a small teaser horse to test to see if she's ready. If the mare accepts the teaser horse they bring in the real stallion to do the job.



Its been found that theres a horse with Media Puzzle blood (Melbourne Cup winner) but the horse has hardly served any mares. Roy wonders why and went up and saw the horse and reckons the stallion was ready and rearing to go. He went up with Bart and Gay. HG asks if Roy bought the horse. HG also had a go with the horse and reckons that the horse wasn't really rearing and ready to go. Roy asks if HG used a teaser. HG says he's embarrassed and can't divulge the identity of teaser used.



Theres plans to raise the height of a horse race track 75 centimetres to improve it. Roy was talking to some of the designers at Federation Square and they reckon a better idea is to raise it 75 meters. The designers think that a perspex track should be used so that punters could watch the race underneath the track. Could have really thick perspex so everything is magnified.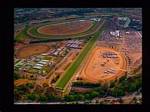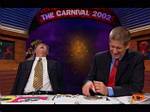 Steve Vizard

Steve Vizard is Melbournes major event organiser. HG tells Steve Vizard that theres seems to be an event every 5 minutes and remembers the time when he was growing up when all there was was the Grand Final, the Melbourne Cup and Moomba. Asks Steve Vizard if there are too many events. Steve reckons that the events should actually be bigger. They talk about how Paul McCartney pulled out of his Melbourne concerts out of respect for the Bali bombing victims but when he was in New York during September 11 he still held his concert. Roy reckons he might be a luney. Roy wants Steve to put a severed horse head in Pauls bed because hes pulled out. Roy talks about how Steve Vizard gets bored of things easily, such as working with Artist Services for a while, then working with Telstra for a while. Steve likes the new challenges. Steve mentions that the World Gymnastic Championship is going to be held in Melbourne and Roy is sure Steve will get bored of it soon. Roy says that he's already bored of it.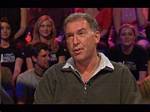 Killing Heidi

Brother and sister from the band Killing Heidi. They grew up in the the country and as a kid Heidi used to do poo surfing on a friends paddock. The paddock was entirely covered in poo and found she could slide on it.