The Carnival 7/Nov/02

The Carnival with Judith Lucy and Kirstie Marshall



Roy and HG were unhappy with Flemingtons roses today (they had blackspot) and were disappointed by some of the fashions. HG spent the day at the race looking at the ground.



One of the horses escapes from the track. HG wonders whether the horse escaping will set a bad example and some of the other horses might start getting ideas.



Roy and HG put money on the horse Beaver because Darren Beadman, from last night, was sure it would win. Roy and HG when they saw it in the barrier could see the horse was unhappy and unhappy with Darren Beadman. Beaver lost and there money went down the toilet. HG asks Roy what makes a horse unhappy and Roy says gastric and mainly backdoor problems.



Judith Lucy

Judith Lucy is promoting her film Crackerjack which is about the game bowls. She says despite learning bowls for 7 weeks she didn't learn much about the game. Roy suggests that Judith Lucy is attracted to things that get up her nose. For a while it was magazines that talk about the stars. She especially hated Billy Bob Thorton because he was a wanker for doing things like exchanging blood on his wedding day and allegedly only eating only orange food. Judith was named after Judith Durham of the seekers but her mum nearly called her Jarleth.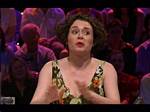 Shots of a horse who's ashes are kept in its hoof.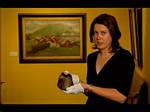 Racing has a naming committee that allows or disallows horses names. The naming committee wouldn't allow Roy to use the name 'Rooting King' so he went to the high court, sued them and won. Roy's also had trouble with horse names like Shagadan, Laughing Arse and Backdoor Bob. Roy and HG reckon that being able to use fun names will increase gambling and thats what racing is all about.

Gay Waterhouse is accused of scratching Platinum Scissors in a dodgy way. Roy represented her at her hearing and got her a reprieve. Roy told them at the hearing that when he reached under the horse the horse was on the verge of spontaneus combustion (getting the scones). Roy knows he's going to win the case. If he doesn't he'll torch the place.



Kirstie Marshall

Skiier who has turned politician. When she door knocks people talk to her about everything except politics which she likes. Roy asks her about her opinion on reducing the number of fat kids and she thinks its up to the parents to stop kids from eating junk food.

Band Dan Brodie and Broken Arrows