The Monday Dump 18/Nov/02
Monday Dump with John Newcombe and Sophie Monk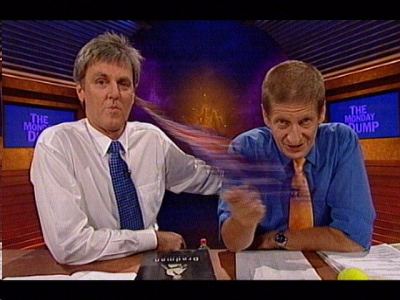 Lleyton is now number one after winning a big match in China.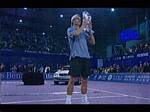 Roy and HG talk about how people in Tasmania have cast a statue of Boon. Roy and HG want statues cast of every Australian test cricketer who ever played the game and have the statues line highways throughout Australia. They'd also like to see statues hidden in the bush and when you're walking along you'd suddenly see a statue of a cricketer like Rodney Hog. HG would like to see a statue that is 20 times the size of a person with a toilet in each leg. With the mens toilet on the left leg and the womens toilet on the right. Roy reckons the backdoor should be a restaurant and the kids can play with the statues head. The statues restaurant could have a plaque with the cricketers record (like Boon) which could be a talking point while eating your Spaghetti Boon.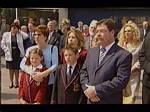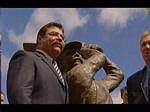 After an Irish horse won the Melbourne Cup, Roy and HG were happy when an Australian car won at Mount Panorama (a Holden car won). Beat cars such as Mercedes and Porshe and many other foreign cars.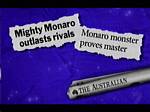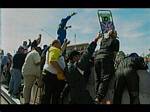 Naomi's Hats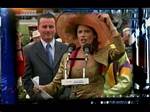 John Newcombe
Newk is selling a book about his life. In the book he describes how Brett Whitely, a famous Australian painter, shot at Newk when he was a teenager with a 303 rifle and that Whitely did it for fun. Roy says Brett was obviously a looney back then and is glad the Brett got a lot better. They discuss how MacEnroe branded Newk at a game. During the match MacEnroe also hit his doubles partner in the throat. Newk was so furious he went over to MacEnroe and put his racket up MacEnroes nose. After that MacEnroes side lost the next few games but Newk still ended up losing the match. Roy and HG discuss Newks period where he went over to the Dark Side for a week and became the bad boy of tennis. In one incident he tried to climb up an umpires chair to get the umpire when the umpire gave a bad decision. Newk used to be drinking buddies with George Bush before George Bush became president. Roy and HG wonder if they think George is up to the job and Newk says its a hard job and is glad he's not doing it. Roy asks Newk if he could ring up George Bush and talk to him on the phone. Newk reckons he could if he could get through.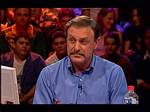 Reserve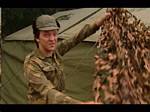 Roy and HG talk about how England are planning on getting a sports psychologist. Roy reckons they need a sports psychiatrist. HG says they should take on the Gene Simmons approach to life which was to root as often as possible and don't give a stuff about anyone else. Roy thinks its cruel for England to have a sports psychiatrist because they would be making the English players delusional, ie make the English players think they're winners when they are losers. HG suggests that the English team needs to relax and for the English captian to show confidence and show discipline. Roy disagrees and thinks England is too relaxed. If you look at Lleyton who is on edge, he's a winner. Another suggestion is that England needs a joker in the team, like Australia used to have with Merv. Roy remembers the time during his cricketing days when Keith Stackpole used play jokes like go to bat with his dentures upside down. It would make Roy cack. Richie Benaud for a joke used to come out to bat with his tossle hanging out. If there was a batsmen Benaud didn't like he'd field at silly mid on and flop out the old fellow. Rodney Marsh, for fun would use his flute as bails. Another joke they'd play, is often the twelth man would come out with the drinks during the drinks break that had whisky and vodka in them.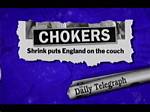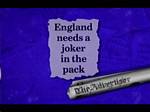 Sophie Monk
Former member of Bardot. Recently flew to England to record a song and then flew back to Australia the same day. Says her influences are Mariah Carey, Marina Prior and Kylie Minogue. They show some footage of her in a dancing routine with men in ejeculatory positions forming a pyramid with her at the top. Roy wonders if she was happy with the choreography with all the blokes grabbing onto her. Sophie says she was. Says she's thinks Russell Crowe is a real gentleman and was surprised about him being in fights recently.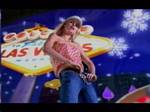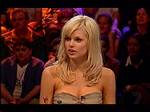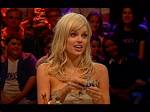 Roy and HG read some emails and someone reckons they know why Austrlian kids are getting fatter. She thinks its because teachers are cracking down on bullies. Bullies used to tease fat kids, steal their lunch and lunch money and now this doesn't happen as often. Another emails talks about how toilet bowl cleaning commercials always show the product cleaning a clean toilet bowl. The emailer wonders why and HG suggests that now that its been pointed out toilet cleaning companies will now be painting on the brown and have ads with people cleaning dirty toilet bowls.
Band Cruel Sea