The Monday Dump 28/Oct/02
Monday Dump with Ian Healy, Tim May, Kimberly Joseph, Robbie McEwen
Shots of Melbournes new Federation Square. HG was talking to Steve Vizard and Steve Vizard reckons Federation Square is made up of a million triangles.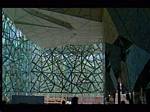 Sunline, one of Australias most popular horses, has retired. Even though Sunline didn't win his last race, Sunline wasn't bothered because Sunline was there just for the fans. Roy knew this because spoke to him often. Roy and HG want the horse Northerly to take his place in the Melbourne Cup.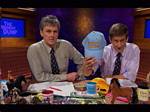 Mark Waugh has retired after being dropped from the Australian Test team. Mark Waugh was great in the team because he fielded, batted, bowled and he used to keep the bear cold. HG feels like a piece of him has been dropped since Mark was dumped. Given that Mark was dumped, Roy wonders how Mark Waugh could have retired since he really didn't have a choice. Reckons he should have fought on.
Roy and HG go through the England side that is touring Australia in the summer. Names like Caddick, Simon Jones (a surprise packet), Hoggard and Hamison (the wide specialist) leave Roy and HG worried about Australia's chances.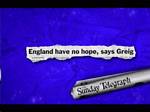 Choas at the Indy car races because of the rain. Lots of crashes with some Indy cars left with two wheels. Drivers wonder if they can drive on.
Shots of the speedway final. Roy reckons if they made the Indy car races run on a ciruit (like the speedway) the race will be much better because people can sit their with a bag of chips and watch the whole race without having to watch just a section of a road.
Bruce and a Horny Guitar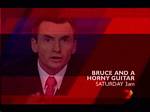 Tim May and Ian Healy
Tim and Ian are playing a charity game with past players with Merv, Jonesy etc to raise money for charity. Talk about how the Sheffield Shield is now called Pura Cup. Roy asks Tim what he thinks about Sheffield shield being renamed. Tim says its fine and Roy suggests that to Tim, the pay deal is more important than the game. Roy and HG reckon that watching cricket teams playing Australia is like watching a man kicking a dog. Roy and HG reckon people love watching a dog getting kicked and people never get bored of it.
Reserve
Kimberly Joseph
Formely in the show Gladiator. Now a fashion judge at the Melbourne Cup. Roy and HG test her judging by showing her a picture of a woman in a fashion magazine wearing a hankerchief around her leg. Despite the hankerchief she reckons that the model in the magazine is too understated. Roy, HG and Kimberly all agree on how bad a place Los Angeles is.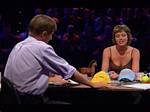 Robbie McEwen
Australian cyclist who won the Tour de France. Roy used to be a cyclist and the thing he used to find hardest was the chafing around the bottom. Roy asks Robby what he does about this problem. Robby said that he puts Nivea around the crutch area. Roy used to used Vaseline. Another thing Roy used to try was walking around with a bike seat attached to his bum so that he'd find it easier to get used to. Robbie reckons its a good idea except that it would be difficult when you went to the toilet. Roy says obviously you'd take it off when you went to the toilet. Robbie has a rivalry with another rider called Eric from Germany. Robbie doesn't need to learn German to understand him since there is a universal language between riders ie when riders swear at eachother in different languages they all know what the other rider means.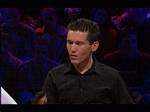 Someone emails in and asks, given the drought conditions, what is the best cut of meat for a drought effect cattle. Roy reckons its the bladder and liver because, they get bloated and diseased during drought conditions and are therefore the biggest. HG reckons the oysters aren't too bad either.
Band Body Jar